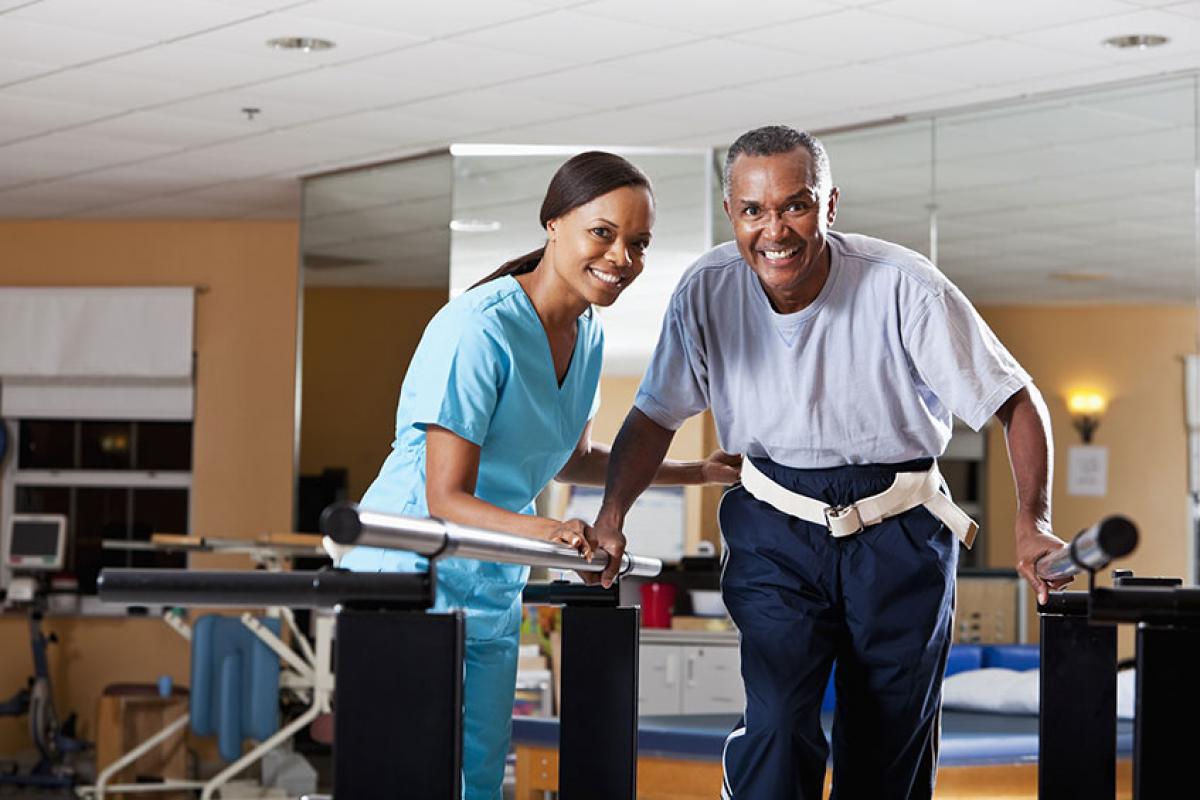 Physical Therapy Services
Increase Your Mobility and Your Quality of Life
Physical Therapy (PT) services are offered at both Touchette Regional Hospital and at our Medical Specialists location in Archview to patients of all ages. Dedicated physical therapists (PTs) and physical therapist assistants (PTAs) work one-on-one with you, helping you overcome limitations and achieve a full recovery.
What is a Physical Therapist?
Physical therapists are healthcare providers who are experts in the examination and treatment of problems that affect an individual's abilities to move and function. Our PT team treats patients with acute (sudden) injuries, neurological (brain and spine) disorders, post-surgery or chronic (long-term) conditions.
What conditions can be treated in Physical Therapy?
If you have one of the following conditions, you may benefit from physical therapy:
Back and neck pain
Arthritis/Joint Pain
Work-related injuries
Muscle weakness
Endurance issues
Pregnancy-related back pains
Headaches
Walking and balance problems
Parkinson's disease and Multiple Sclerosis (MS)
Chronic Obstructive Pulmonary Disease (COPD)
Vestibular/Balance Disorders
What will I do in Physical Therapy?
Treatment includes specific exercises to address muscle weakness and low endurance, manual treatments, methods for pain relief, and education to help improve your lifestyle and overall physical functions.
Our specialties include:
Chronic Pain Management
Posture/body mechanics training
Sports injuries
Pre and Post-Surgical Rehabilitation
Pre-Employment tests
Lymphedema Management
Vestibular/Balance Disorders
Health Focused Lifestyle Interventions
The ability to move well is a vital component of your health. PTs work collaboratively with patients and clients from newborns to the elderly. In addition to treating patients with illness or injury, a large part of physical therapy is focused on preventing injury and potential loss of movement.
Our therapists will help you return to an active life as quickly as possible through an individualized treatment plan.
How do I make an appointment?
To make an appointment with a PT, you must obtain a dated prescription for Physical Therapy from your doctor with your diagnosis. If you are having difficulty, you may contact either of our locations and we will assist you.
Will my insurance cover Physical Therapy services?
Our staff will check with your private insurance company or worker's compensation before your first visit to verify coverage and benefits. You will understand your benefits each step of the way.
What if I can't drive to your facility?
Transportation is available for free to patients who qualify.
What are your service hours and locations?
TRH partners with Professional Therapy Services, Inc., to provide outpatient rehabilitation services at two convenient locations.
Touchette Regional Hospital
5900 Bond Avenue
Centerville, IL 62207
Ph: 618.332.5450
Fax: 618.332.5259
Hours: 7:30 a.m. to 4:00 p.m.
Monday - Friday
Archview Medical Center
2071 Goose Lake Road
Sauget, IL 62206
Ph: 618.337.9461
Fax: 618.337.9482
Hours: 7:00 a.m. to 5:00 p.m.
Monday - Friday